The big box retailer Best Buy is now another option for those of you who are looking to pick up the new Nexus 6P.  This weekend the US retailer started selling the aluminium finished 6P with 64GB of onboard storage for $499.  That is the same price as the Google Store but you can pick it up locally at many of the brick-and-mortar stores and of course order it online for delivery to your home, office or your local Best Buy.
To this point here in the US you have pretty much had to go to the Google Store to get the Nexus 6P although you have been able to find them sporadically on eBay or Amazon.  The rumor was that Best Buy would be picking up the 6P at some point but it was unclear when it would be and, more importantly, if it would be during the holiday season.  It made it – barely – which certainly is a good sign as Google works to get the phone out to other outlets.
Nexus 6P at Best Buy – 64GB $499
Nexus 6P Comes With Android Marshmallow Installed
As you may already know, the 6P will come with Android Marshmallow installed already as this is the base OS for the device.  There will likely be OTA updates to do when you get it to version 6.0.1 but those are quick and pretty small updates.
Generally the reviews of the 6P have been positive, with many praising the camera and overall performance of the device.
The Nexus 6P will come with a QuadHD 1440 x 2560 5.7″ display that will give you approximately 515 PPI.  That is outstanding and will certainly make it very easy to view the device for long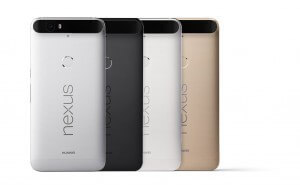 periods of time comfortably.  It will be covered with Corning Gorilla Glass 4 and will have a fingerprint resistant coating.  Powering the 6P will be the Snapdragon 810 processor coupled with the Adreno 430 GPU.  It will have 3GB of LPDDR3 RAM and will have storage options of 32, 64 and 128GB on board.  Like the Nexus 5X, there will not be an expansion MicroSD slot on the Nexus 6P.
The rear camera will be a 13MP f/2.0 shooter and like the 5X, will not have Optical Image Stabilization.  The front shooter will be a 5MP f/2.2 with both being able to shoot 1080p video (the rear camera will also shoot 4K)
There is no real surprises in the Nexus 6P from a sensor or connectivity perspective.  It supports Bluetooth 4.1 LE, Wi-Fi 802.11ac, USB Type-C connector, Accelerometer, gyroscope, proximity and barometer sensors.  It will of course support NFC for Android Pay.