Huawei has released an updated firmware build for the Huawei P10.  The new version is VRT-L09C432B133 for those keeping score at home.  The key part of Huawei's naming convention is the last four figures, in this case B133.  The earlier part of the build will change depending on which model you have (dual-SIM versus single SIM for example).
The update brings a handful of optimizations to the phone along with the April Android Security Patch.  Unfortunately the update does not bring Android Nougat 7.1.1 or a newer security patch.  As for those optimizations, they are in several key areas.  First, power consumption has been optimized when you are using the P10 for an extended period of time while Wi-Fi performance has also been optimized.  Optimizations have also been made to the UI content display on some screens.  As mentioned, the April 1, 2017 Android Security Update is a part of this new firmware and Huawei also removed the TripAdvisor app from the firmware.
The B133 release happened last month but it has been a very slow roll out by Huawei with devices in Europe just now seeing the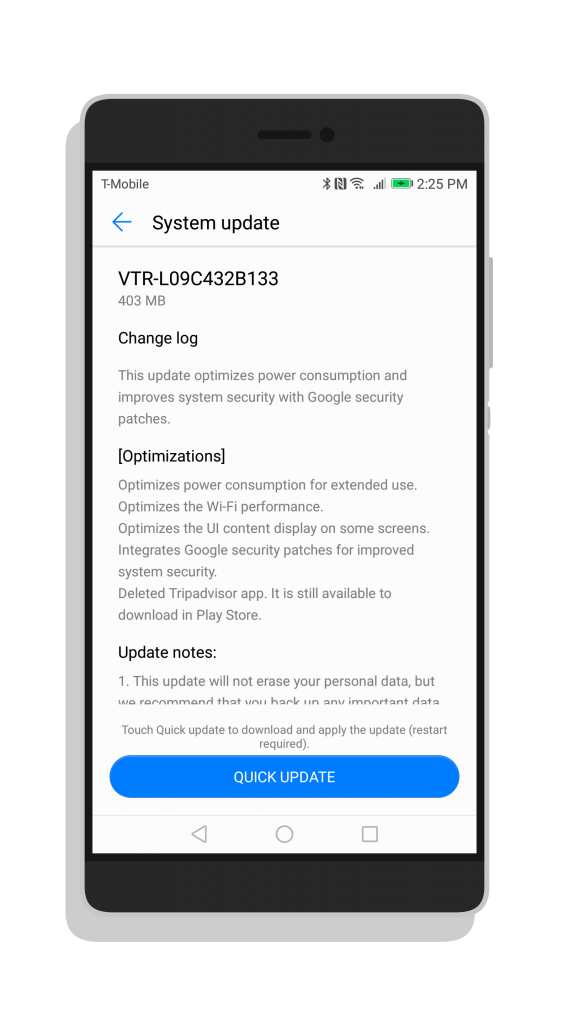 update.  My P10 (you can read my review here) received the update this morning.  Interestingly, the B150 firmware is also rolling out now in Asia which further improves the camera and optimizes performance.  The details of that release are a bit sketchy still but it could be coming later this month to European devices.  All rumors suggest that this new B150 build is also based on Nougat 7.0.
If you have a P10, check the System Update section in the Settings to see if you have B133 available to download.  It is about 450MB in size and all-in, took me about 10 minutes to install.