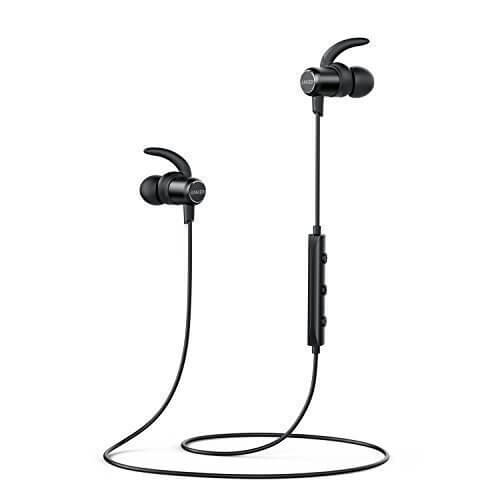 Today's Deal is on a great headphones set for exercising or every day use.  The Anker SoundBuds Slim wireless headphones feature a behind-the-neck design that are incredibly lightweight and are IPX4 water resistant.  That means rain or sweat are not an issue for this Bluetooth headset.  Right now on Amazon you can pick up a pair for $19.99, a savings of 44% off the regular price.
The Anker SoundBuds feature 6mm drivers for the audio and connects to your phone via Bluetooth 4.1.  This delivers an excellent sound quality and reliable connection while you are on the go at the gym, in the office or just lounging about.  The headset is designed with keeping things lightweight as it only weighs .48 ounces (13.6 grams in new money).  It is also designed to be customizable with various sizes of Ear Tips and InEar-Hooks to make sure you have a snug but comfortable fit.
Did I mention that 7 hours of use between charges?  Yeah… 7 hours.  That's solid performance from any Bluetooth headset and Anker has really done their homework with the engineering in the SoundBuds.