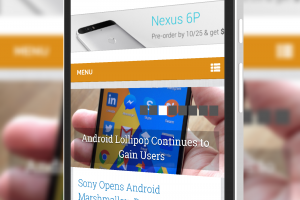 Google has announced a new open source initiative aimed at bringing speed while maintaining content richness to the mobile web.  The project, Accelerated Mobile Pages, builds on existing web technologies and relies on AMP HTML, a new open framework built from those technologies.
Today, after discussions with publishers and technology companies around the world, we're announcing a new open source initiative called Accelerated Mobile Pages, which aims to dramatically improve the performance of the mobile web. We want webpages with rich content like video, animations and graphics to work alongside smart ads, and to load instantaneously. We also want the same code to work across multiple platforms and devices so that content can appear everywhere in an instant—no matter what type of phone, tablet or mobile device you're using.
The good news is that Google already has a lot of other companies signed up to help drive the project forward.