It appears to have been a busy day for the Google Docs team.  Earlier today they released an update to Google Sheets that bring auto-fill to cells and now they have updated Google Docs itself with a long, long time requested feature.  You can now view print layouts from your Android phone or tablet.  Like the update to Sheets, the release notes for this update to  Docs only state that there are bug fixes and performance improvements.  But once again the team took to Google+ to share the news of the new feature.
Google Docs for Android – Free – Download Now
The new print layout feature in Google Docs allows you to see various different print views of a document prior to you printing it.  This is something you have been able to do for a while now in Google Docs online but the apps were limited to only printing in portrait or landscape.   That has changed with this release and gives users far more flexibility around how they print a document.  It's a long time coming frankly and it is something that will boost the usability of Google Docs for users.  Hopefully this addition isn't too far behind for Google Sheets and Google Slides.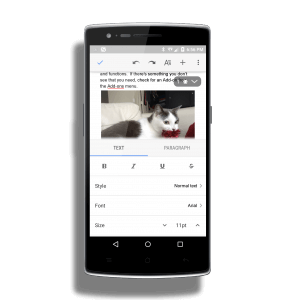 Google Docs Update Rolling Out Now
Like the Google Sheets update I mentioned earlier in the day, this update is rolling out now to the Google Play Store so it may be a few hours or even a day or two before you see it hit your Android phone and tablet if you have the app installed already.  If you haven't installed it or given any of the Google office apps a try, now is a good time to do so.  They are free and storing files in your Google Drive account is free too.