It has taken a while but Google's MVNO, Project Fi, has finally added group plans to the service.  Now you can add lines to a Fi user's account for $15 per month and use a shared pool of data that will all be on one bill.  To this point, if multiple family members wanted to use Fi, each one had to sign up for their own account.  The good thing is that fundamentally, the service isn't changing for this new option.  You can still add and remove members of the plan at any time without penalty and your data is still billed at $10 per Gigabit.
With a family plan in place, the main account holder can see the data usage for each member of the group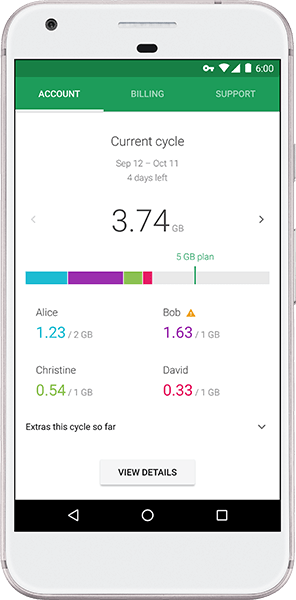 and can even pause a member's service if they go over their allotted data allowance.  It makes keeping data usage under control which is important for families with teens in particular.
Adding a person to your plan can be done from the Project Fi website on your account page.  Just click the add a person button on the page and enter in the person's Gmail address.  The person you are adding can be an existing Fi users or a new user.  By adding an existing user it means you can consolidate your family into one account if you have multiple ones.  Management and viewing of data usage can be done via the Fi app once members are setup.
This is just another reason to take a serious look at Project Fi if you are looking for a carrier alternative.  I've been a Fi users for a year now and I can't see ever going back to a traditional carrier.  Be sure to check out my review of the service to get a feel for how it works.