When it comes to Bluetooth keyboards, there are plenty to chose from in the market. The questions for most of use come down to two big factors: A comfortable keyboard layout (not too cramped) and the overall footprint of the device. It is a difficult combination to find but the team over at iClever have come up with what I think is an excellent and functional solution.  The iClever Foldable Wireless Keyboard gives you the full keyboard feel of a keyboard you would have on your desktop (or close to it) while it neatly folds into a compact square that you can easily carry with you without taking up a huge amount of room.  It works on any device that supports Bluetooth 3.0 or higher and it has OS-specific function keys for Android, iOS and Windows.  With a standby time of over 200 days and 84 continuous hours of work time, this keyboard should meet the needs of even the most demanding user.  All of this is in a package that sells for $34.99, a steal of a deal for all that this keyboard has to offer.
iClever Foldable Wireless Keyboard – $34.99 – Amazon
Specifications & Configuration
The iClever keyboard is constructed of a lightweight aluminum shell which weighs in at .39 lbs (177.9 grams).  Unfolded it is 251.7 x 89.6 x 6.6 mm in size.  In old money that's 9.9 x 3.5 x .29
inches.  When you fold it up, the keyboard measures 145 x 95 x 15 mm (5.7 x 3.62 x .59 inches) which is just a touch smaller than an iPhone 6 or a OnePlus One.  The keyboard is hinged to open on both sides to expose the keyboard and the sliding hinge design is smooth in its action.  I've been using the keyboard for a few weeks now and even after opening and closing it dozens of times, I'm not seeing or feeling any wear or tear on these hinges.
The keyboard itself is a 64-key QWERTY layout with the upper number row service triple duty as the Function keys and some of the OS-specific keys. For those who will use the iClever keyboard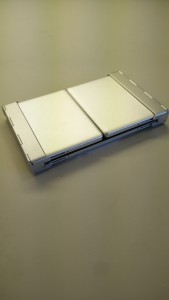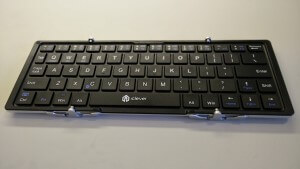 with a Windows device, there are two dedicated Windows keys on either side of the space bar.  On the keyboard there are two LEDs.  The green one powers up for 3 seconds when you unfold the keyboard to let you know it is powered up and working while this LED will turn red when you are charging the keyboard.  When it turns off you know it is charged and a full charge will take about 2 hours.
When the iClever keyboard is unfolded, there are four small plastic anti-skid tabs that are on the hinges.  This prevents the keyboard from moving around while you are typing and because they are clear, they blend in nicely to the overall look of the keyboard.
To connect the keyboard to your device, make sure you have Bluetooth enabled on your Android, iOS or Windows device.  Unfold the keyboard then press the Fn+C keys which will put the keyboard into pairing mode.  On your device you should see the iClever IC-BK03 Keyboard listed.  Tap it and it will automatically be connected to your device.  After you have paired the keyboard to your device, press the Fn+Q to configure the Function keys for Android, Fn+W for Windows or Fn+E for iOS.  If you don't do this the function keys won't work and will only be number keys.
The iClever keyboard is powered by a 210 mA battery which is designed to last 3 years and takes about 2 hours to completely charge.  Once charged, the keyboard can be in standby for up to 218 days and be used continuously for 84 hours between charges.  In my testing of the keyboard I took it with me on a business trip and didn't charge it once during the week.
Typing
The iClever keyboard is a 92% keyboard meaning that is 92% of the size of a full size keyboard (like the one on your desktop).  Generally speaking when you start shrinking down keyboards, the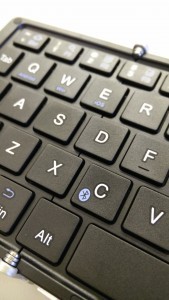 keys become smaller and more difficult to use with comfort.  I've tried many keyboards of this size but what makes this one decidedly better is the larger-than-normal keys for a keyboard this size.  It makes typing on the iClever keyboard much more comfortable over an extended period of time.  It also improves your accuracy as we all have muscle memory as we type and when you start shrinking keyboards, you mistype more often.  While I certainly do mistype more on this keyboard than I do on my desktop keyboard, it is a far cry from how poorly I typed on similar size keyboards.  I think, in part, it is due to the layout and size of the keys.
The typing action of the keyboard is outstanding.  The key stroke is solid as are the keys themselves.  This keyboard doesn't feel flimsy as you type and the keys are nice and quiet too. I can type with it while connected to my tablet in a meeting and nobody around me is distracted by the keystrokes.
Conclusion
Having used the iClever Bluetooth Keyboard over the course of the past few weeks, I have to say I'm very impressed with it.  Functionally it is great with outstanding battery life and with the ability to have OS-specific keys programmed with a simple two-key touch, it makes it a powerful keyboard option regardless of what type of device you are using.  In my testing of the keyboard, I connected it to my OnePlus One, Samsung Galaxy Tab 4, Nexus 7 and my Toshiba Encore 2 Windows tablet.  Connection was quick and importantly, it stayed connected.
Equally, the build quality of the keyboard is great and the compact folding makes it easy to travel with in a backpack or briefcase.  Remember, this keyboard actually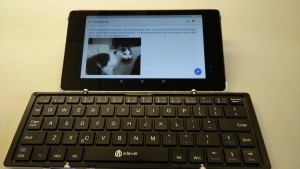 takes up less space than some of the larger smartphones on the market so you aren't going to have to fuss with sorting out a big space in your bag to carry it along with you.
If you are looking for a solid performing keyboard for your smartphone or tablet, give the iClever Foldable Wireless Keyboard a look.  I don't think you will be disappointed.