Electronic Arts last week released the all new Need for Speed No Limits game for Android.  The latest game in the franchise is the first that has been designed for mobile first and leverages the talent of the FireMonkey team at EA who created the ever popular Real Racing 3.  This latest game has a lot going for it with outstanding graphics and game play.  There are a few gotchas though, least of which is the freemium model where you have to pay real cash at some point to get further along in the game.  The good news – after playing it pretty extensively all weekend, you can get pretty far into the game without having to make that investment.
Need for Speed No Limits – Free (In-App Purchases) – Download Now
Installation Requirements
Need for Speed No Limits is a big game, make no mistake about it.  It will require nearly 1.5GB of storage on your Android phone or tablet and that's before any game save data.  When you first start the game to play and see the various cut scenes and overall game graphics, you will quickly figure out why the game is so big.  The graphics are really nice in this game – nicer than any of the previous NFS games.
The premise of Need For Speed No Limits is that you are racing in the underground scene and you continually improve your car and your reputation by winning races.  Those wins come through a wide range of series within the game including true underground racing where you complete specific types of races, series racing where you race a particular make or country manufacturing of car, online tournaments and other special series.  The wins give you cash and gold which you can in turn buy upgrades to the look of your car and install parts that you collect as part of your winnings.
Different events in the game, particularly in the underground, will have you do different things.  For example, some races against the clock you are delivering a high end car to another underground boss while other have you hit as many ramps as possible to fly through the air. In all there are over 1000 events to race in on Need for Speed No Limits so it should keep you occupied for a while.  To add to the fun, you have a loading dock section where you are given free parts or parts of blueprints for new cars and there is also a black market where you can buy hard to get parts with cash or gold.
Ultimately in Need for Speed No Limits you want to win all the races and events to be the leader of the underground racing scene.
Game Graphics
Since Need for Speed No Limits was designed for mobile first, EA did a lot of optimizing of the graphics engine for mobile devices.  That shows in the game.  The graphics are outstanding and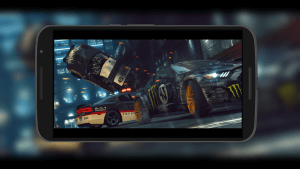 certainly do not have the blocky or pixel look that many games have on mobile devices.  Indeed the cut scenes and the overall game play feels very console-like.  I've been playing the game on my Nexus 6 and Nexus 7 and there has been no issue with these devices keeping up with the game play.  Overall I have been very impressed with the graphics of the game and if you have a device with reasonable specs, you should enjoy them as well.
Game Controls
The controls in Need for Speed No Limits are simple but effective.  Steering of your car can be done either by tapping the left or right of the screen to turn left and right, or you can setup the game to accept tilting left and right to steer.  I've tried both and it is equally easy to control the car in either mode.  Keep in mind that this game is very much an arcade style racer.  You aren't going to find the true car physics as much as you do in Real Racing 3.  That makes it much easier to control the car and have a bit of fun with it.
Every car will come with nitrous oxide (NOS) which you can swipe up on the screen to turn on and give your car a extra burst of speed during your racing.  Swiping down into a turn will allow you to drift the car through the turn which is faster and refills your NOS meter faster.  Again, all very simple which makes the game play fun and where you don't necessarily have to think a lot to play.
Online Requirements
One of the big drawbacks to Need for Speed No Limits is the requirement for you to be online to play the game.  There is no offline mode so you will have to be connected to Wi-Fi or cellular data to play the game.  This is a real disappointment as it means that No Limits is off limits if you are unable to get connected.  This is probably the only area I'm truly disappointed in the game.  Given the amount of data that the game requires for installation, it would seem to me some of the online bits could be installed too.
The bottom line is you are going to have to be online to play.
In-App Purchases
I'll be the first to admit that I hate the freemium model because inevitably you install the free game and you are immediately stuck having to make a real cash purchase in the game.  Electronic Arts is one of the worst offenders in my book but in Need for Speed No Limits they seem to have gotten the balance right.  I played the game all weekend and progressed nicely through 5 chapters of the underground series, played in a tournament and other things.  I've yet to spend any real money in the game.  Yes my progress has been slower than it could be if I had made purchases but I'm okay with that personally.
In reviewing the pricing structure for the game, the in-app purchases are not overly stupid in cost.  In fact they have one really great offer which is $2.99 per month and you receive 50 gold credits each day you sign in.  That gold is really important in the game to buy things in the black market or open more crates in the loading dock area and given that 50 gold is $4.99 if you buy it out right, it makes since to do the monthly subscription.
While I'm still not crazy about the freemium model its here to stay and it seems that EA has been listening to complaints.  They have balanced game play with in-app purchases well in this game and it's great to see.
Conclusion
Overall I think Need for Speed No Limits is a great game that will bring a lot of fun for those who like racing games.  While it is very much an arcade-style racer, it brings a great story line, outstanding graphics and music to your Android phone or tablet.  It is disappointing that the game requires to be connected online but equally, EA has done a good job of balancing the game play with the requirement for making in-app purchases.  Overall, it's a good game to try out and burn a bit of rubber.