Google has released an update to their news and magazine app, Google Play Newsstand, that has enabled notifications from the app.  The update is version 3.5 for those keeping score at home and it is available now in the Play Store.  The app, which is also the app where you read any magazine subscriptions you have through the Play Store, has slowly been evolving over the past year and it looks like it might finally be poised to replace the Google News & Weather app – or it is getting there at least.
When you install the update you will have the option to enable notifications on the first run (you can always go back and enable or disable them in Settings).  Once enabled, you will see notifications for those items you have set up. These can be News alerts from major news events or form those you have setup in the app, magazine issue updates and Deals and Offers.
If you use Google Play Newsstand for magazines, you know that you have been able to get new magazine issues notifications for a couple of months now.  This update just expands it out to include news information.
Google Play Newsstand – Free – Download Now
Along with the new notifications information, there is the usual lineup of bug fixes and other improvements.  Navigation within the app has also seen some tweaks and in my testing for this post, seems to be a bit smoother in action.  Personally, that along is worth the update.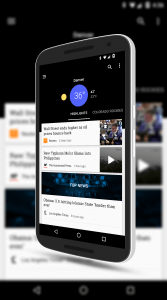 The question for users of the app and the Google News & Weather app is if Newsstand will finally replace the later.  Right now I would suggest no.  There is enough of a gap between the features of the apps where both are pretty handy.  However, you can somewhat see the writing on the wall.  The feature gap is closing with each update to Newsstand and I think it is only a matter of time before News & Weather is deprecated, much like we saw with My Tracks after similar features were added to Google Fit.