Google has begun a limited roll out of their new apps and service, Hands Free.  The testing area is limited to a select number of retailers and for those who live or work in the South Bay area, just south of San Francisco, California.  Generally it covers Mountain View, Sunnyvale, San Jose and Palo Alto.  The idea, as the name suggests, is that you can complete a purchase completely hands free – no phone or smartwatch in your hand or on your wrist required.  The app utilizes Bluetooth to communicate between the point-of-sale terminal and your phone in your pocket.
When you configure the app, you associate a photo of yourself along with your initials to your profile.  This is key as it is the trigger mechanism for you to be able to make a purchase.  When you are at a location that accepts Hands Free, you will tell the attendant "I'll pay with Google".  The attendant will then start up the Hands Free POS portion and will ask you for your initials.  After you give them your initials, the attendant will verify that the picture associated with your account is indeed you and will authorize the purchase.  You will of course get an immediate notification on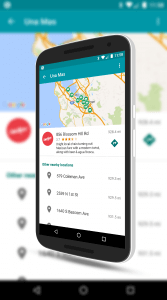 your phone of the transaction.
The scope of the test area is small but in the Hands Free app you can see what locations are participating.  There are place like McDonald's, Papa John's Pizza and Una Mas that are participating in multiple locations (but not all) in the area as well as the Google Store, Bierhaus on Castro street in San Francisco and Esther's German Bakery on San Antonio road.  Check the app out (anyone can download it but it will really only work in the South Bay) and you can see a full listing.
How long Google will be testing this new purchase method and if it will expand out is not very clear.  I'm fortunate that I'm in the South Bay area often and will be testing this out when I'm there next to see how it goes.  While it is not a replacement for Android Pay, it is certainly a next evolutionary step in payment processing.  It'll be interesting to see how it progresses.
To get more information on Hands Free, visit the website.  There you can get links to both the Android and iOS versions of the app.