The news is a bit disappointing this morning for those who have been waiting for the Nextbit Robin to come in a CDMA flavor.  It isn't going to happen according to company co-founder and CEO Tom Moss.  There are several reasons why the cancellation happened including the timelines involved and the information they were going on about building a CDMA version was inaccurate.  The news means that for those of you who were wanting the Robin on Sprint or Verizon, it won't be happening.  If you are one who backed Nextbit through their Kickstarter program or if you pre-ordered a CDMA version of the phone, you will be a full refund.
Building devices for CDMA is difficult and even the larger phone manufactures don't always make a version of their devices for the platform.  With GSM dominating the world, it is the faster and more predictable play.  For Nextbit, the withdrawing of the CDMA Robin is a blow for sure but something they shouldn't be able to overcome.  The good news in all of this is the company is being very upfront with what went wrong and how they are going to handle the refund process.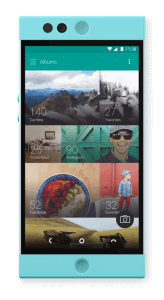 The Kickstarter campaign is only 30 days long, and it wasn't until the second week of the campaign that we realized the demand and started the investigation. Because of this, we had to go with the best information we could get before the campaign was over, and over time it turned out that this information was not accurate. What people at the carriers, in good faith given our need for quick answers, thought would take "weeks" has turned into "months". What they thought would cost "hundreds of thousands of dollars" has turned into "millions". And we're still not there. The goal posts are still being moved, and at this point, we think it is better to cancel this version rather than continue to try and make progress with no clear answers to offer regarding when we would actually be able to ship.
As for those of you who were waiting for a CDMA version of the Nextbit Robin and put money down on it, the good news is you get all of that back.
Refund/Cancellation. We are giving every CDMA backer a full and complete refund within the next 48 hours. For Kickstarter backers, this includes your entire pledge as well as any extra you were charged for accessories, shipping, etc. For pre-orders, we have not charged you and will not do so.

A 25% discount code for each CDMA backer. Each of you will receive a code for a 25% discount on one order from our online store. If you cannot use this yourself, feel free to pass it on to a friend or family member who is on a GSM network and might like a Robin.
As I read through the post, I don't get the feeling that Nextbit has 100% ruled out CDMA going forward.  It seems, for now, it is on hold simply because of the time and costs involved.  As a startup, they just don't have millions to put into the project.
And for those wanting to kick Nexbit to the curb, just a friendly reminder, the other darling phone startup OnePlus does not make a CDMA version of their OnePlus 2 phone.