After some delays, FIFA Mobile for Android is finally available in the Play Store.  The football (soccer) franchise app has been completely redesigned and purposely built for mobile devices.  That means that the team at EA Sports has significantly shrunk the game from a near 200MB install to only a 68MB install on your phone and it is much more optimized for touch play.
The game has a huge amount of playing options.  You have 30 different leagues from around the world, 650 real football teams and some 17,000 real players.  It makes it a true football experience for those who love the Beautiful Game.
FIFA Mobile also serves as a bit of a hub for your football world.  The game gives you in-game real scores and updates from around the various leagues and it also has the ability for you to build the ultimate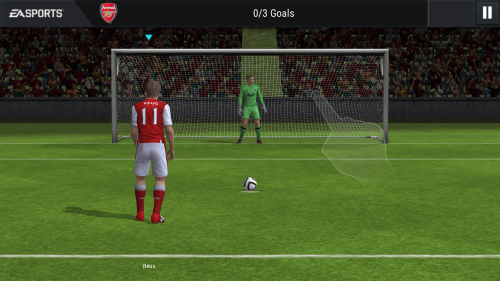 football team that you manage, train and play as in the game.
For the first time, there is also a league mode within the game.
For the first time, participate in Leagues, a truly social experience that allows you to join forces and strive for glory with friends and gamers around the globe. Test your skills in inter-league championships, or take on the best gamers worldwide in League vs. League Tournaments to climb the leaderboards. With the ability to chat and send gifts, Leagues is a global soccer community for you to join.
Based on the limited play time I've had with the game so far, this works very similar to the league feature that is in Madden Mobile.
FIFA Mobile is a free app but as is normally the case with EA games, there are a shedload of in-app purchases to progress more quickly or to build a better team.  Again, based on my limited play time, like Madden Mobile, you don't necessarily have to make purchases to progress if you are patient.