Google today announced their new Daydream VR headset.  The $79 headset will be available in November and comes in three, soft fabric color options.  The headset is specifically designed to work with devices that have Google Daydream enabled such as the new Google Pixel lineup.  Google indicates that other Daydream enabled phones are on the way which will work with the headset.
Google designed the headset in software fabrics instead of hard plastics for a more comfortable fit.  They also designed it to work around eyeglasses to give more comfort.  The headset also comes with a controller that has a gyroscope built into it which allows you to point, click and interact within VR environments.
The controller is housed in the Daydream headset when it is not in use to help cut down on the chances of it being lost.  Google also designed the headset to be very easy to use.  Simply put your phone into it and it configures itself automatically.  No fuss or cables are involved.
In addition to the headset itself, Google announced that a multitude of VR experiences are coming to the headset.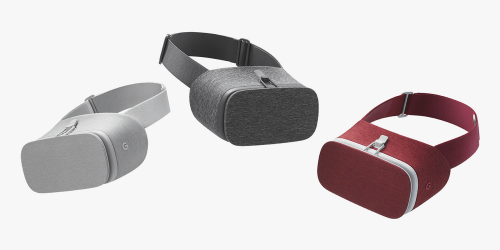 From the universe of YouTube videos to a magical world where you can cast spells and levitate objects, there is a wide range of experiences coming to Daydream:

Enjoy the best of Google. We've brought some of the most popular Google apps into VR. With YouTube, you can watch the entire library of videos on a virtual big screen and experience immersive videos from creators like Buzzfeed, PrankvsPrank, Meredith Foster, CollegeHumor, Tastemade, UnboxTherapy and VSauce2. Use Google Street View to see curated tours of more than 100 of the world's most amazing places like the Pyramids and the Taj Mahal, or just search to explore everywhere else. Google Play Movies makes tens of thousands of movies and TV episodes available in your own virtual theater. And Google Photos displays your 360° captures in a whole new way.
Explore new worlds. Teleport from anywhere to pretty much everywhere with immersive stories and content from our partners, including The New York Times, The Wall Street Journal and J.K. Rowling's Wizarding World of "Fantastic Beasts and Where to Find Them," as brought to life by Warner Bros.
Kick back in your own personal cinema. Experience sports, live events and more with MLB and NBA. Plus, you can watch top shows and movies on your own virtual big screen with Hulu, HBO and Netflix.
Get in the game. Go from the sidelines to the center of action with dozens of titles, including Wonderglade, Gunjack 2, LEGO® BrickHeadz, Mekorama, Need for Speed, EarthShape, Danger Goat, Home Run Derby and Hungry Shark World.
Google is clearly going hard after the VR space and this headset is going to take them a long way towards their end goal.  The question will be given, that it only works with Daydream devices, will it sell.  There are already rumblings that the Pixel lineup is too expensive and given those are the only phones on the market that will fully work with the headset, it could seriously cut into sales opportunities.