For you Amazon shoppers who are looking to get your hands on the new Google Pixelbook, you can now pre-order it on the site.  During the presentation on the new Chromebook, Google mentioned that it would be available at retailers like Amazon and Best Buy so it isn't surprising.  In fact, the listing for the Pixelbook clearly states it is being sold by Google through their Amazon storefront.
Don't look for any special pricing either.  The i5 equipped Google Pixelbook with 8GB of RAM and 128GB of storage is $999, the same price as it is directly from Google.  And while pre-orders are now available, shipping won't happen until October 31st, just like the Google Store.
Google announced a lot of new hardware yesterday and from a looks perspective, the Pixelbook is one of the most impressive.  It is only 10.3mm thin when it is close and weight 2.45 lbs.  It is equipped with the 7th generation i5 and i7 processors and has 10 hours of battery life.  That battery can be recharged for 15 minutes to give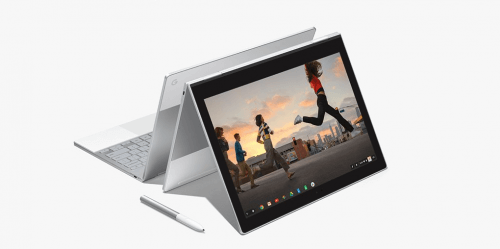 you 2 more hours of battery life.
Aesthetically, the Google Pixelbook is beautiful with its glass panels on the back, very similar to the look of the Pixel phones, coupled with an aluminum chassis.  It has a backlit keyboard and, of course, runs Android apps natively out-of-the-box.
On Amazon, the Pixelbook is being offered in two flavors and both are available for pre-order.
i5 with 8GB of RAM and 128GB of Storage:  $999
i5 with 8GB of RAM and 256GB of Storage:  $1,199
Unless you just absolutely feel compelled to spend an extra $200, there isn't much of a reason I can see to bump up to the 256GB model.
Hit the links above if you want to pre-order.  Remember, Amazon Prime members will get free 2-day shipping and, if you have Amazon credits to burn, you can use them to make your purchase (something you can't do at the Google Store).