Among the many things that Google announced last week was a 2nd generation Chromecast.  For those who don't know, the Chromecast devices connect to your television via HDMI and allow you to show ("cast") apps, photos and app content to your television.  For example, you can cast Netflix using your Android phone or tablet as a remote control and telling your Chromecast what you want to view.  It then streams that content over your Wi-Fi network to your television.
There are a lot of things that make the 2015 model really attractive.  First is the price.  At only $35, you have a lot of functionality you are adding to your television at a minimal cost.  Second is the ease of use and setup.  You can literally be up and running in 5 minutes after you plug in the device to your television.  Finally, there is powerful and significantly improved app for Android that not only shows you apps you have installed that support casting, but gives you content at your fingertips you can easily start streaming content.
This new 2nd generation Chromecast isn't without its faults but for the majority of users out there, this update is the a step in the right direction and if you are well entrenched in the Google ecosystem, is most decidedly a no-brainer to purchase.
Google Chromecast 2015 – $35 – Google Store
Specifications and Design
The new Chromecast is different in many ways for the original device and that starts with the design.  This new version is a disk-like device that has the HDMI cable built into it.  That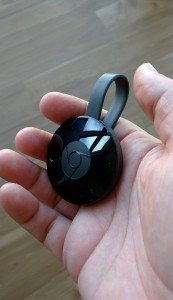 small cable magnetically attaches to the back of the device for safe keeping if you take it with you while you travel.  The only other connector is the MicroUSB power connector.  Measurement wise, the new unit is 51.9 x 51.9 x 13.49 mm in size and weighs in at 39.1 g.  It is available in three colors:  Black, Lemonade and Coral with the latter two colors being exclusive to the Google Store.
The Chromecast requires a Wi-Fi connection and this updated generation supports 802.11ac both 2.4 and 5Ghz networks and it is an adaptive antenna system to keep the buffering to a minimum as you use the device.  The fact that it supports 5Ghz networks is a big benefit for those who have a lot of wireless devices at home and can setup a 5GHz network.  That band is far less congested and faster.
The Chromecast supports a maximum output of 1080P on the video side which some will disparage in this day of 4K video.  While it would have been great to see 4K support in this generation, equally I can see why it wasn't included.  The challenge with 4K is the bandwidth requirements.  Netflix for example on their 4K streams require 15.6Mbps currently and while this will improve with compression over the course of the next couple of years, the reality is that a large percentage of homes simply do not have that kind of bandwidth available.  Ideally 4K video needs about 20Mbps for the best streaming support which shrinks the user base even more.
The same is true by-the-way on why this new version doesn't support 60FPS videos which require even more bandwidth.
Overall the design of the new Chromecast is a nice step forward over the 1st generation.  The antenna configuration is far better and the support of 5Ghz networks is a big plus.  Also, the losing of the audio-out cable is a nice plus which always struck me as a bit odd.
I spent a good amount of this weekend casting content and was pleased with the results.  I streamed content from the Google Movie & TV app in 1080p HD (The Walking Dead), streamed live baseball from the MLB At Bat app and streamed music from the Google Play Music app.
Setup & Configuration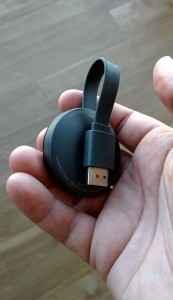 Setting up the new Chromecast is simple.  First, make sure you have downloaded the app to your Android phone or tablet, iOS phone or tablet.  Next, connect the Chromecast to your television's HDMI port and connect the MicroUSB power connector to the device.  Turn on your television and select the HDMI port as the source and you will be ready to start.
Using the app, you can search for and find your new Chromecast.  You will then work through the setup wizard on your phone where you can rename the device, enable guest mode (this is so users can cast to your Chromecast without actually having any further access to it) and so forth.  In all it takes about 5 minutes to set things up and begin using your new Chromecast.  Interestingly, when I configured mine, it immediately gave me a software update for the device.  That took an extra few minutes but nothing major. No matter what your skill set is on configuring these types of devices and your television, the Chromecast makes it super simple for anyone.  Basically you just follow the instructions on your phone to walk through the wizard.
Chromecast Android App
Along with the new Chromecast, Google has released an all new Chromecast app for Android.  This app is significantly better than the previous version, providing you Castable content a tap away, highlighting what apps you have installed that support Casting and the ability to immediately get to cast supporting apps like Netflix in just a tap.  It is a far cleaner, more elegant app.  In addition to content, you can configure and control your Chromecast devices from the app and you can see what apps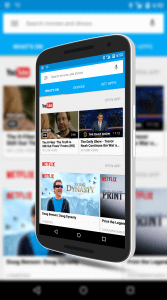 are available in the Google Play Store that you don't have installed that support Casting.
Keep in mind that this new Chromecast app will also let you cast your music from supported apps like Google Play Music and Pandora.
Conclusion
The Chromecast 2015 is certainly a step in the right direction.  With significantly improved antenna and Wi-Fi support, a nicer and easier physical setup and a dramatically improved app, if you have held out getting a Chromecast then this version should be the one you jump in on to try it.  Having played with this new Chromecast all weekend, including streaming from the MLB At Bat app for some of the final day of the regular season, I can say I'm most impressed with the improvements Google has brought to this device.
Google Chromecast 2015 – $35 – Google Store