With the 2015-2016 National Hockey League season starting this week here in the US and Canada, you can get ready to keep up with your favorite teams and players with the official NHL for Android app.  The app is full of news, video highlights, social network feeds, stats and standings from across the league and you can configure the app to focus just on your favorite team – because really? As a Colorado Avalanche fan do I care about what's going on with the Dallas Stars?  No, not really. 🙂
The NHL for Android app runs on Android phones and tablets and if you are a NHL Gamecenter subscriber, you can watch live action from across the league right on your devices.  I've often said that the best sports league app in my opinion is the MLB At Bat app for Major League Baseball but the NHL for Android app is undoubtedly just as good.  If you love stick & puck, you need to have this app on your phone or tablet.
Official NHL for Android App – Free – Download Now
The NHL for Android app is designed for both Android phones and tablets and weighs in at 31MB for the space needed to install it.  The app ties in with your NHL.com account so you can get the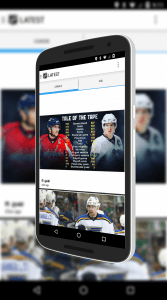 latest news and information from around the league in your inbox and/or subscribe to NHL Gamecenter (I'll cover that in more detail later).  Once you start the app and sign in, you will be taken to the latest news from around the league.  This is a combination of news articles, video articles, Twitter and Instagram posts from teams, players and news sources.  The top of the Latest section is tabular so you can tap on your favorite team's tab and get just news and information related to that team.
The NHL for Android app is deep when it comes to information.  You can get the things that you would expect from a league app such as scores, standings and team schedules but you can also get stats on teams and players, league leaders and the latest trades that have happened around the league.  You can also get the NHL draft information from 2015 so you can see who your team has as a prospect.  The app also ties into your teams official app (if they have one) so you can easily go from the NHL for Android app to your team's app with just a tap.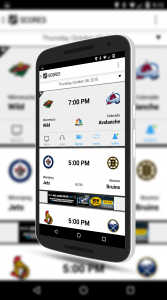 When you want to view the schedule, you can view it from the perspective of the entire league or just for a specific team.  Once you have the list of games for that day, you can tap on a game to see your options for that game.  If you are an NHL Gamecenter subscriber, you can stream the video of that game to your Android phone, tablet or your PC.  The app supports Chromecast so you can Cast the game to your TV for view on a larger screen.  You can also stream the audio of the game which is free for everyone, get a preview of the match-up, buy tickets and get alerts for that game such as scoring alerts, end of period scores and so forth.
During the game you have selected, you get a live game simulation in the NHL for Android app which gives you near real time line changes, scores and game clock.  It is very similar to the Gameday feature of the MLB at Bat app if you are familiar with that feature.  It's designed to give you a feel for what's going on in the game if you are not a Gamecenter subscriber.
NHL Gamecenter allows you to view every team and every game live on your devices and is either a one time charge of $131.49 for the entire season including the Stanley Cup playoffs or you can do a monthly subscription for $24.99 which can be cancelled at any time.  Subscribing to NHL Gamecenter can be done on the NHL website or within the app itself.
If you love NHL hockey then the NHL for Android app should be the one app you install on your Android phone and tablet before the season starts.  It gives you a huge amount of information about the league and your favorite teams, gives you easy access to game content and now with Chromecast support, allows you to Cast the game to your TV if you are an NHL Gamecenter subscriber.  All-in-all, NHL for Android is a top-shelf (see what I did there?) app for hockey fans.