If you have been wanting to try Google's Project Fi mobile service, now is a good time to give it a go.  Now through December 30th, you can sign up on the Fi website and there is no wait time for you to get your SIM.  The "instant invitation" program means that instead of having to wait in queue before your SIM was sent to you, you will now get it in about a week and can start using the service in your Nexus 6, Nexus 6P or Nexus 5X.
It is not a well kept secret that I am a Project Fi users and I am very pleased with the service.  You can read my full review of the service but also check out the many posts I have made on making Fi work a bit better for you and explanations of the intricacies of the service.  The bottom line is I'm happy and after 17 years of being an AT&T customer, I'm not looking back.
While I and many users of Fi are quite happy with the service, it is technically still in beta. That means that Google has been slowly feeding new subscribers into the system and if you applied for a SIM it could be a matter of weeks or even months before you got it to try in your phone.  While there are still some rough edges with Fi, it is solid for the vast majority of users and Google has run this "instant invitation" twice now in as many months.  To me, that indicates they are more confident in the service themselves and are wanting more subscribers to try it and use the service.
To sign up, just go to http://fi.google.com and sign in with your Google account to get started.
More details after the break.
Project Fi – Pricing Made Simple
One of the big draws of Project Fi is the pricing structure. It is simple to the point of amazement when you compare it to the bigger carriers.  The flat fee each month is $20.  That includes your unlimited calling minutes, unlimited texting including international texts, voicemail and the ability to use your Nexus device as a mobile hotspot. Plus, you have the ability to use your phone in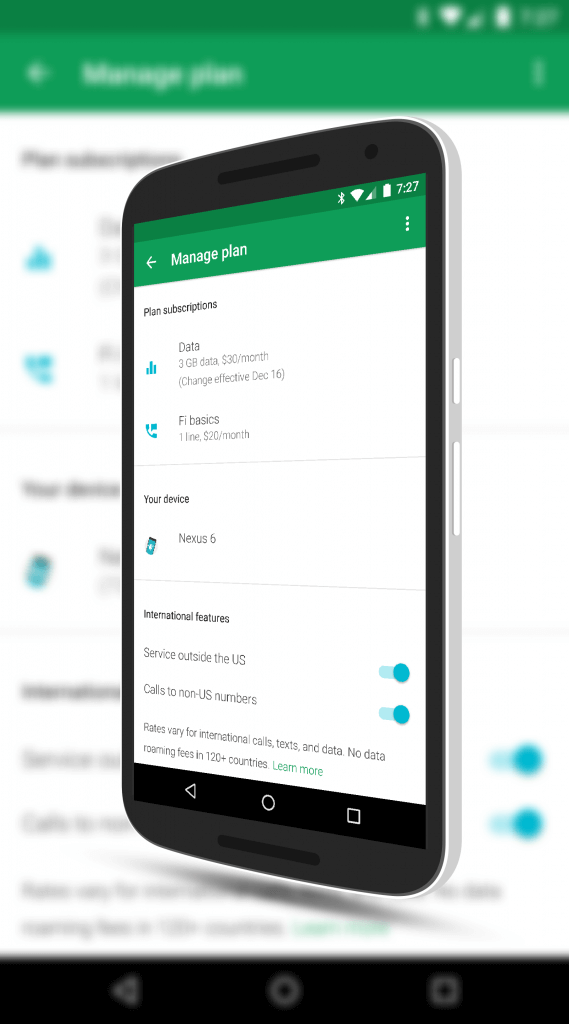 over 120 countries with no roaming fees.
Next comes the data component and the pricing is simple.  $10 per month per Gigabyte you sign up for.  So if you want a 3GB of data, it is $30 plus the $20 base fee so your bill is $50 a month plus taxes and fees. You can go as high as a 10GB per month for $100.  To help keep the costs down, you only pay for the data you use each month.  So for example, let's say you have a 5GB account but only use 3GB one month. You are credited back to your account in dollars and cents the unused portion of that 5GB on your next bill.  Likewise, if you go over your 5GB allotment, you are only going to be charged an additional $10 per gigabyte you use.  There are no heavy handed overage fees.
To help save you your data allotment, Project Fi leverages open, trusted Wi-Fi networks and will connect you to those access points without any user intervention.  This allows you to make calls and consume data while on that free Wi-Fi network. If you go out of range of that hotspot, Fi will simply hand the call over to the carrier network so you can keep talking with your party and data consumption starts using your monthly allotment.