In our battery driven consumer world, making sure you have enough battery on your mobile device is key to getting through the day. Sometimes however that is a bit tricky depending on how busy the day has been for you. To meet that need, many companies have developed battery packs that you can plug your phone into so you can recharge without having to dive for that one electrical plug in the airport terminal. Some of these battery packs are nice and aesthetically pleasing while others are… well less so.
When I was contacted by EasyAcc about their PowerBank and they sent me a review unit, I knew that power wise it was going to be fine. What surprised me was the sleek design. This device does not look like a lump of battery sitting next to you at the airport. It's rounded corners, plastic shell and color band around it make it look really sharp while still maintaining functionality. After all, the point of the PowerBank is to charge my Nexus 6 and Nexus 7 while I'm on-the-go. To that end, it performed flawlessly.
The EasyAcc PowerBank Looks Good Doing its Duty
For this review, EasyAcc sent me the PowerBank PB10000CF.  It is a black with orange trim and the edges are gently curved to give you a rounded look and feel.  It measures 5.67 x 2.95 x .58″ in size or 144 x 75 x 14.8mm in new money.  It weights a comfortable 7.97 oz or 226g and is comprised of a 10,000 mAh/37 Wh battery.  The outer shell of the PowerBank is made of high impact plastic and is smooth to the touch.  Despite having a rather sizable battery inside, it does not feel overly weighty which is a nice thing given that the point of this type of accessory is to have it with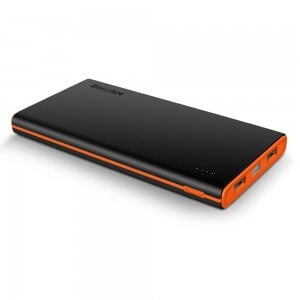 you as you travel.
As you look at the unit, one end you have dual USB connections for charging two devices at once and they are separated by a frosted lens which has an LED behind it.  More about that in a minute.  On the thinner side where the thin orange band is, you will find the MicroUSB charging port on one side while the power button is on the opposite side.  Pressing the power button turns the EasyAcc PowerBank on while pressing it twice quickly will turn the LED behind the frosted lens to provide you a very long lasting flashlight should you need that instead of device charging.
One unique feature that I really like about the PowerBank is on the top of the unit.  When you press the power button you will see tiny LEDs light up, a total of four of them.  This is a visual indicator of how much power is remaining in your pack.  So four fully lit LEDs means that you have between 76-100% of the battery remaining while a flashing single LED tells you that you have less than 5% remaining.  Likewise, when you are charging the unit itself, these LEDs tell you how full your battery pack is on a charge.  Not many external packs have this feature and it is a quick visual reminder of just how much battery you have remaining to charge your devices.
Using The EasyAcc PowerBank In The Real World
I have been using the PowerBank now for about a month and have taken it on several business trips with me during that time.  The goal of this type of device is to give me power when I need it, especially in our seemingly power outlet-less airports.  On each trip I purposely ran my Nexus 6 down to less than 10% battery throughout the day before connecting it to the battery while at the airport.  Overall if I was just charging my Nexus 6, it could go from 10% to 90% charged in a little over an hour if I didn't use the phone during the charging.  If I used it about 1/2 the time, it took about 1.5 hours to charge to that level.  On half of the trips I also ran the battery of my Nexus 7 tablet down to less than 10% as well and charged it by itself and with my Nexus 6.  When I charged the Nexus 7 by itself and did not use it, it only took about 45 minutes to get up to 90% while the times I charged both devices at the same time, it took about 2 hours to get both of them to 90%.  The EasyAcc PowerBank has smart output ports to optimize the amount of energy used to charge your devices efficiently.  Having compared this to other external batteries I have used in the past, this one was slightly faster in the charging of my devices but only by a matter of minutes.
Overall I was able to get 2.5 charges out of the PowerBank when charging my Nexus 6 while I was able to get 3 charges while charging only my Nexus 7.  Obviously your mileage is going to vary depending on your devices but for me, this was more than acceptable.
Conclusion on the EasyAcc PowerBank
Having used this battery over the course of the past month, I have no hesitation in recommending it.  It looks really good compared to some of the brick-like batteries that are out there but that aesthetic appeal didn't compromise the functionality of the battery.  It can charge your devices efficiently and give you a visual indicator with the built-in LED power meter to let you just how much battery you have left to charge those devices.
The EasyAcc 10,000mAh Power Bank is available from several online retailers and you can get more information on it from the EasyAcc site