The first maintenance update to Android Nougat will be hitting devices by the end of this year.  The update, Nougat 7.1, is scheduled to be released as a technical preview later this month with a final release coming in December according to a post on the Android Developer site.
Initially, we'll offer the Developer Preview for Nexus 5X, Nexus 6P, and Pixel C devices, extending to other supported devices by the end of the preview. At the final release of the Android 7.1.x platform, due in early December, we'll roll out updates to the full lineup of supported devices — Nexus 6, 5X, 6P, 9, Player, Pixel C, and supported Android One devices — as well as Pixel and Pixel XL devices.
Google announced earlier this year that they would be moving into a more consistent maintenance cycle with Android which will over new features, security and other fixes with each release.  With the new Pixel line up running Nougat 7.1 out-of-the-box, it was just a matter of when other devices would start seeing the update.  Now we have a rough timeline from the company.
Nougat 7.1 is going to have a lot of changes and will have a new API level for developers.  Developers are being encouraged to look at this new API level and start preparing their apps for the release.  Here are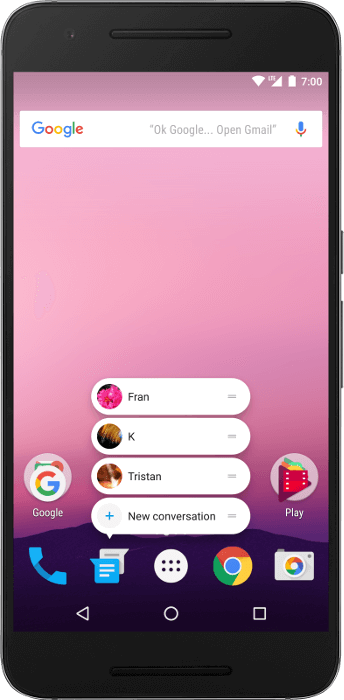 some of the highlights of what we can expect when 7.1 hits the airwaves.
App shortcuts API — lets you surface key actions directly in the launcher and take your users deep into your app instantly. You can create up to 5 shortcuts, either statically or dynamically.
Circular app icons support
Enhanced live wallpaper metadata
Image keyboard support
Storage manager Intent
Multi-Endpoint Calling
New Telephony configuration options
As noted in previous posts, the new Pixel Launcher and Google Assistant will not be a part of the Nougat 7.1 update for Nexus devices.  Those items remain, for now, exclusive to the new lineup of phones from Google.  However everything else appears to be supported and, of course, there will be overall security and performance improvements.
While the post from Google did not indicate how this technical preview will be distributed, it likely to leverage the Android Beta program which was launched with Nougat testing in April.