Today's Deal is on the Anker 5-Port USB Wall Charger.  This 63W unit has two ports that support Quick Charge 3.0 technology for rapid charging of compatible devices.  Today you can pick it up for $29.99, a saving of 63% off the regular $57 price.  Anker is one of the long time manufacture of accessories for Android and iOS and I never hesitate in recommending their products.  This particular accessory I have (albeit the Quick Charge 2.0 model from last year) and it is rock solid and used every day for the myriad of devices I have plugged into it at any given point in time.  You see me point out Today's Deals on Anker products a lot.  I do because I know the quality and know that readers will be happen with their purchase.
While two of the ports support Quick Charge, the other 3 ports on the Anker charger support own technology, PowerIQ.  This technology figures out what type of device you have connected to it and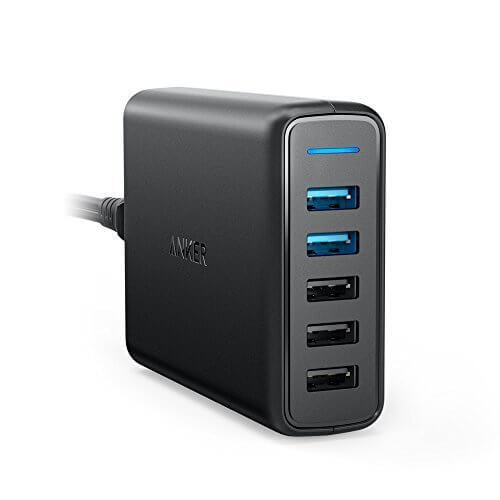 optimizes the charging flow to that device to assure a safe charge at maximum speed and efficiency.  Because this has five USB-A connectors, you can use it with really any phone or tablet.  It will work with Android devices as well as iPhone and iPads to charge them quickly and efficiently.
All Anker products come with an 18 month warranty and have a durable finish to them that allows them to stand the test of daily wear-and-tear but keep looking good while doing it.  It is compatible with any Android device or iOS device and you can, of course, mix the two for the entire family to use.
The price on the charger is through today only.  Head over to Amazon for more details.