As we roll the calendar forward to 2018, many of us will be looking to the new year as a chance to start living a healthier lifestyle.  In fact, "weight loss" and "exercise" are among the most common new year resolutions that people set for themselves.  It is said that it takes 3 weeks of doing something before it becomes a habit which makes the month of January critical for the success of your goals or resolutions.
For me, living a healthier lifestyle started in June 2009.  At the time was weighed in at 285 lbs (129 kilos) and was making every poor food and exercise decision you could make.  Fast forward to December 2009 and I was 210 lbs.  As of January 1, 2018, I tipped the scales at 199 lbs.  That's nearly 10 lbs over my ideal weight of 190 lbs but now you know one of my goals for the new year.
Fortunately we live in the future.  There are dozens of apps out there to help you achieve these healthy goals both for Android and for iPhone but like so many things, it is a question of which one to use.  That's where this article tries to help.  I've compiled a list of apps that I use to help me maintain my diet and overall health.  This is by no means an exhaustive list nor am I suggesting that these are the best of the best.  These are the apps that work for me and they have worked a long time in some cases.  Hopefully they will do the same for you.
MyFitnessPal
As of yesterday morning, I had logged my meals for 1,753 straight days in MyFitnessPal.  That's 4 years, 9 months, 2 weeks and 5 days for those who are keeping score.  I'll admit that I've not logged every single meal over the course of those four years but I have logged something every day.  Doing so helps me keep track of my caloric intake and when I exercise, it gives me calories back so I know just how much I can consume on any given day.  The app has an impressive database of foods and you can scan the barcode of an item and it will auto-populate the calorie and other nutrition information into your food diary.  You will also find a lot of popular restaurants are in the app for easy finding of that double cheeseburger you decided to have at lunch.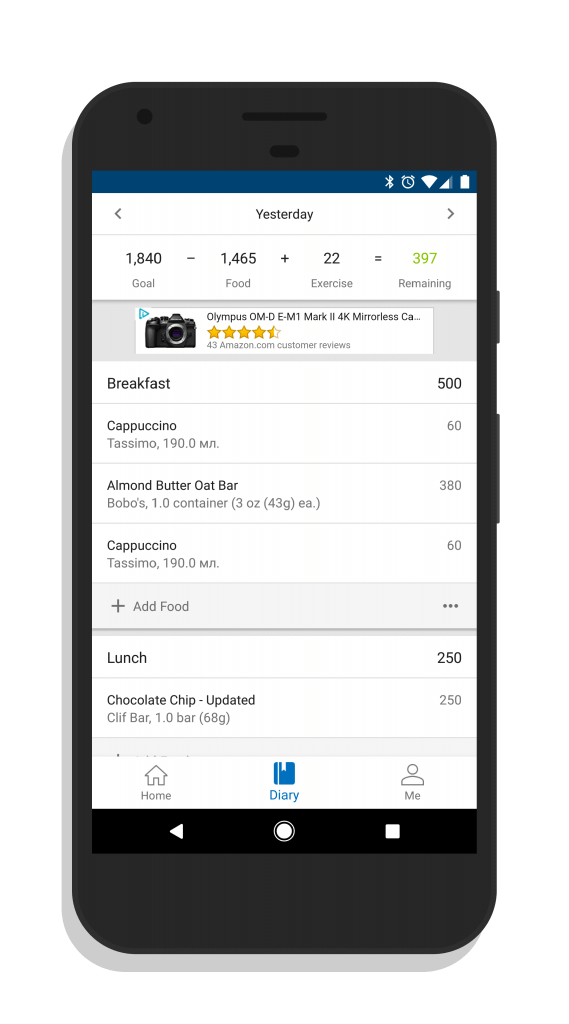 MyFitnessPal also ties in nicely with other apps that are on this list like Fitbit and Google Fit.  I can use those apps for tracking my steps & exercise and it will populate that information into MyFitnessPal.
You can download the app for free and it is free to use.  I recommend starting with the free app first and if you decide you want more granular nutrition information, you can do the in-app purchase of $9.99 per month to unlock the premium features.
Google Fit
Google Fit is Google's exercise and activity tracking app that works best with an Android Wear watch.  It allows you to setup multiple goals so you can track your steps, exercises and other activities all within one app.  You can also integrate it with other apps like MyFitnessPal and Sleep as Android to have a more complete record of your health in one place.
If you have an Android Wear watch, you will really get all of the benefits of Google Fit, particularly if you have a watch running Wear 2.x.  That version integrates nicely things like elevation changes, heart rate during your workouts and so forth and puts it all within Fit.  But, if you don't have a Wear watch, you can still use the app.  Essentially your phone itself becomes your "wearable" so as you walk with it in your pocket, it will track your steps.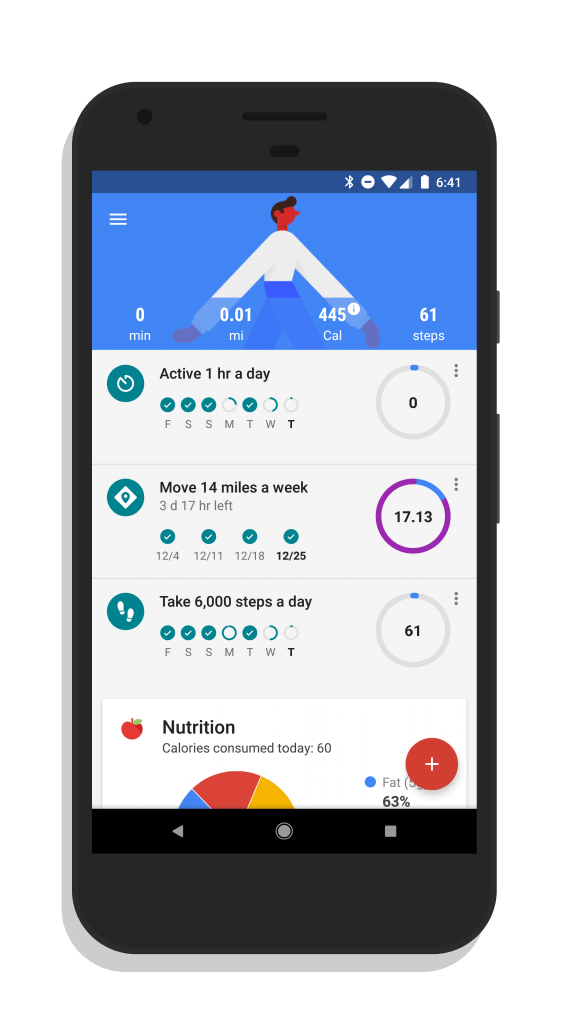 Google Fit is also free to download and there are no in-app purchases.
Sleep as Android
Study after study has suggested that we as humans, particularly as Americans, do not get enough sleep.  Things like careers, social lives and family time all compress the time we have available to sleep but the knock-on health effects of lack of sleep are equally as documented.
Sleep as Android is aimed at helping you understand your sleeping patterns and to track the amount of sleep you get.  The app uses the sensors in your phone (or your Android Wear watch) to track your movement and noise at night as you sleep.  It can even vibrate your watch if it detects you snoring and can serve as your alarm clock in the morning.
After your rest, Sleep as Android gives you a wealth of information about your sleep including how long you were in deep sleep, REM and how much you moved about during the night.  On more than on occasion I've though that I had a poor night sleep but the app showed me that was not the case.  Doctors suggest that we get 7-8 hours of sleep at night.  Sleep for Android has a "sleep bank" to let you know if you are over or under your goal (which you can adjust).  It is a powerful and comprehensive app that can give you some great insights into your sleeping habits.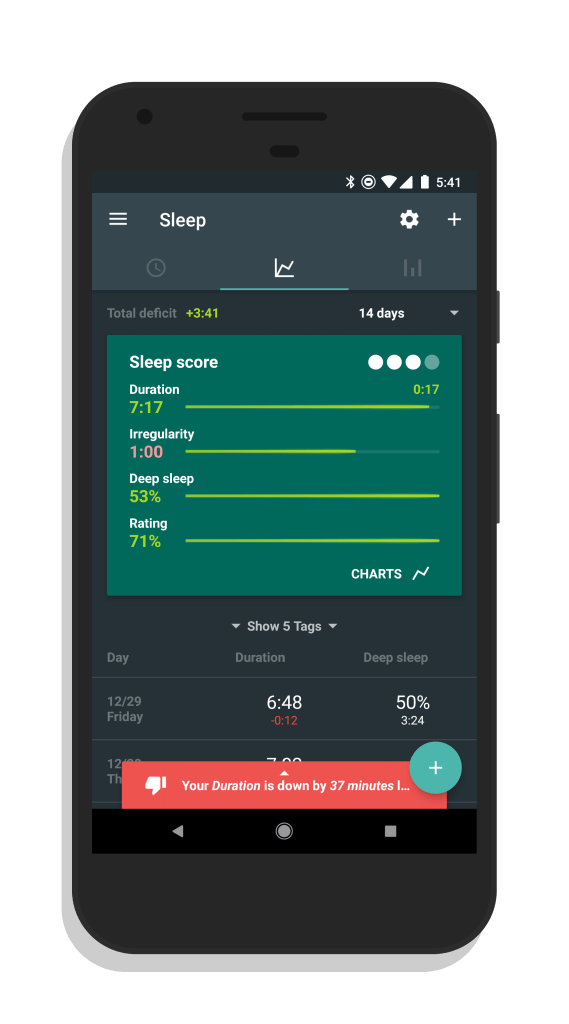 Sleep as Android is free with several in-app purchases for things like Google Drive integration and other features.
Hydro Coach Pro
As important as sleep is to our bodies, so is hydration.  Our bodies need water to maintain a healthy balance in our body chemistry but also to help us stay fit and alert.  In fact, proper water consumption can even help with weight loss if that is one of your goals for a healthier 2018.
Hydro Coach Pro is a great app for tracking your water intake each day.  Leveraging its integration with Google Fit or Fitbit, it will give you a daily goal of how much water you should consume based on your weight and activities.  It will provide you with notification reminders when you need to drink water and integrates with Android Wear if you have a smartwatch.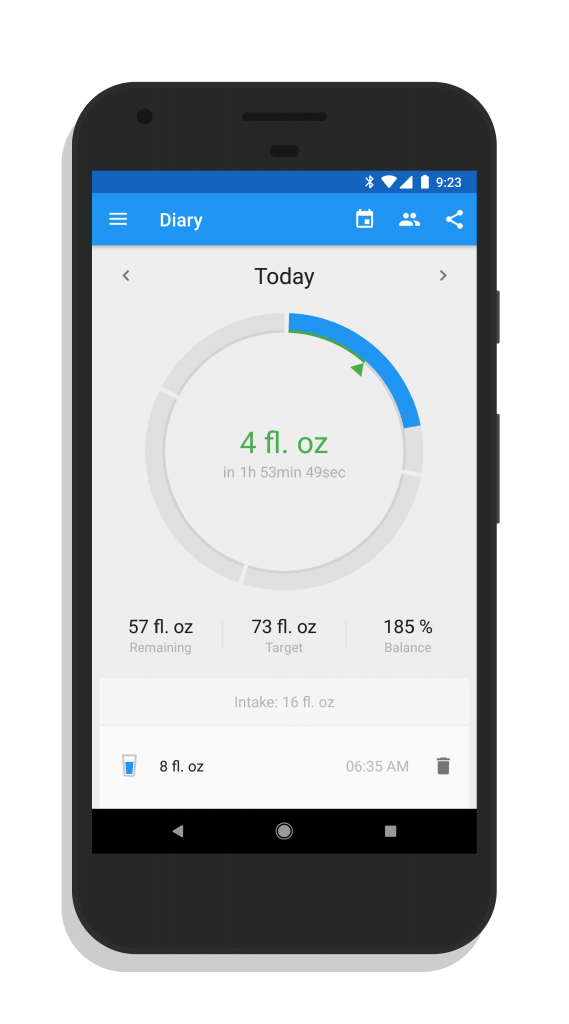 Hydro Coach Pro is $4.49 in the Play Store and there is a free, ad supported version as well.  I do recommend getting the Pro version as it gives you a bit more in the way of widgets and the ability to export your data.
These are the apps that have helped me over the years with a healthier lifestyle.  I recommend giving some or all of them a try if you are trying to be a bit more healthy and conscious of your lifestyle.  Have an app that works great for you?  Let me know about it.  Leave a comment so others know about it.